What Is The PS5 GPU Equivalent To?
The new PS5 has brought some remarkable changes in the hardware section. It's lightning fast and provides a highly realistic gaming experience for its decently upgraded specs.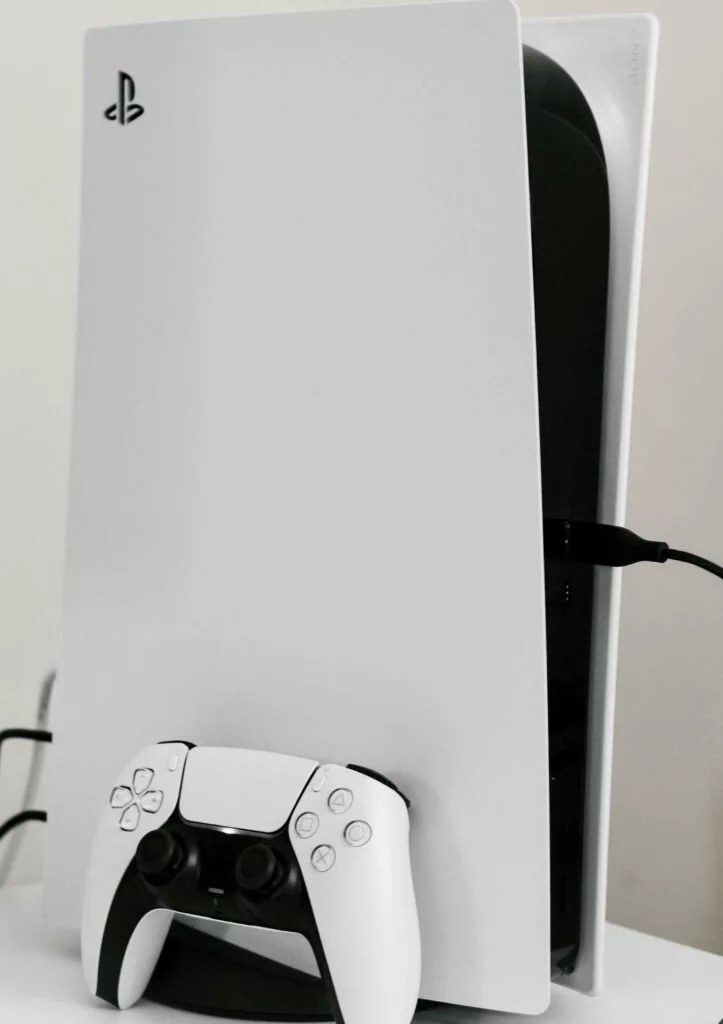 Most people have some common questions regarding the PS5's hardware and performance. 
But first, let's clear your initial impression about the graphics cards that are equivalent to the PS5's GPU.
The PS5 GPU is nearly equivalent to AMD's RX 6600XT. Both of them offer around 10 TFLOPs. This means that both of these GPUs can handle nearly 10 trillion operations per second. In terms of Nvidia GPUs, the PS5 GPU can perform in between the previous-gen RTX 2070 and the newer RTX 3060.
There are two reasons you might want to know about the PS5 equivalent GPU. And these are either for building a gaming PC that performs similar to the PS5 or just for choosing between a PS5 or a Gaming PC.
Well, that's a broad discussion, But you'll get your answer clearly after going through the article attentively.
PS5 GPU Specifications
The PS5 graphics card has an RDNA 2 structure. If you don't know much about RDNA graphics chips then let's enlighten you by saying that:
AMD makes the RDNA code named graphics cards. And they have implemented this GPU microarchitecture technology in their latest RX 6000 series graphics cards.
Like these awesome specced GPUs the graphics card of Playstation 5 offers phenomenal performance. Please don't go wrong by comparing it to any popular graphics card. Because the optimization technology of the PS5 is among the best we have seen so far in the tech industry.
You'll be surprised to know that this console can offer $k gaming at 120FPS which sounds insane. But there's a catch, this statement doesn't apply to all games. 
The game developers have provided mostly two different options to choose from when it comes to the graphics settings. You can either choose 4k at 60FPS or 1080p at 120FPS. 
But still, these numbers are extraordinary for a console that costs around 499$. You can't expect to have such performance from a Gaming Computer at that cost. So, hats off to Sony for making such a wonderful gaming console.
So, here are the specifications of the PS5 Graphics card:
GPU model: Oberon
Paired memory: 16 GB of GDDR6
TFLOPs: 10.28
Size: 7 nm
OpenGL support: 4.6
Shader Model: 6.5
GPU Clock: 2233 MHz
PS5 Graphics Card vs PC Graphics Cards
Well, there's an unending battle between PC gamers and console gamers about graphics performance. It's obvious that high-end computer graphics cards are much more powerful than that of a console's GPU. Some computer graphics cards even cost more than that of the PS5. 
This is quite normal, The computer graphics cards are made to do more than just gaming. People can edit videos, do machine learning stuff, render high quality textures on different platforms, and so on. Some people even mine using their GPUs. 
That's why there are so many types of graphics cards available in the market. Sometimes people just get confused about which one to buy as there are so many options to choose from.
But that is not the case in consoles. Consoles are made only for gaming. You can't do anything else with these consoles. 
So, the GPUs of these consoles are made in such a way that they are cost effective and perform sufficiently in running games. Console GPUs are inexpensive but with the help of optimization, these units offer great performance in gaming. And the PS5 is no exception to that. So, it's kind of a waste of time arguing with this topic of comparing these GPUs.
So, What GPU Does the Playstation 5 Have? 
The PlayStation 5 has an equivalent Graphics card of AMD's latest generation RX 6600XT. However, if you compare them with the graphics cards of previous generations, the near equivalent graphics card has to be RX 5700 XT or RTX 2070 Super.
The gaming experience you can get out of PS5 is Fabulous. But here's a catch, you can't experience the optimal performance of the PS5 without connecting it to a compatible 4K TV/monitor. So, if you are confused about which display would be a better fit for your PS5 then check out our review on Best 4K monitor for PS5.
What About PS5 RAM/VRAM?
PlayStation 5 uses a memory of 16 GB of GDDR6 with a consistent memory bandwidth across the board at 448 GB/s that contrasts with the XBOX console's split bandwidth.
Even though Sony said their console has a memory of 16 GB, you will only get 12-13 GB for playing games. The rest of the memory has to be shared with the CPU as well. As the PS5 has its special ray-tracing feature, VRAM is important for game textures and many other graphical assets.
You will be stunned to know that the RX 5700 XT or RTX 2070 Super both have 8 GB of GDDR6 VRAM with a bandwidth of 448 GB/s. Nonetheless, it's clear that the near equivalent GPU for PS5 is obviously AMD's RTX 2070 Super, RX 5700XT, and RX 6600XT.
These three graphics cards can breeze through highly graphical PC games at 60 FPS. But, the only challenge console gamers face is the 30 FPS problem.
It is true that, 
Most console gamers are used to playing 30 FPS in AAA titles. However, PC gamers agree that games have to be at least 60 FPS for a breathtaking experience.
What is the Max resolution for ps5?
The PS5 supports 4K resolution and provides up to 120FPS. That means it can handle up to 3840 x 2160 pixel resolution, which means new PS5 supports 4k monitors without any hassle. The Frame Rate varies from game to game. Some run smoothly at 120 frames per second whereas some run at even 30-60FPS. 
But don't worry, All the online multiplayer AAA titles keep the pace above 100 FPS which is suitable for competitive gaming.
The most important thing you need to know in this matter is, you'll need to connect your PS5 to the TV/monitor through an HDMI 2.1 to get those FPS numbers. Sony's PS5  comes with an HDMI 2.1 cable. But in case you don't have one for any reason, make sure to get one, or else you will be missing out on the glorious performance of PlayStation 5.
How Does The PS5 Graphics Card Compare In Games?
After a lot of testing and benchmarks, it's clear that Sony's Playstation 5 is a big deal in terms of gaming. And it's suitable for most gamers. Not all of us need over 120FPS. Compared to the price and performance ratio the PS5 offers a win-win situation for budget-oriented gamers.
The PS5 can run most games smoothly at 60FPS. But the number of games supporting 120FPS is smaller in numbers as of now. 
So, Without any further delay let's have a look at some of the most popular games that support 120 FPS in the ideal condition of the PS5:
Battlefield 2042
Borderlands 3 (PS5)
Call of Duty: Black Ops Cold War 
Call of Duty: Vanguard
Call of Duty: Warzone
Destiny 2 
Devil May Cry 5: Special Edition 
DIRT 5 
Doom Eternal
F1 2021 
Fortnite
Ghostrunner 
JUMANJI: The Video Game 
Knockout City 
Rocket League
The Nioh Collection 
Tom Clancy's Rainbow Six: Siege 
WRC 9
What About 30 FPS on the PS5?
Many realistic graphics games run at 30FPS (to know more about FPS visit) on PS5. You might think, then how it's a good sign? The scenario is different when you play these games on different monitors and TVs.
When you play these 30FPS games on a TV, the TV shows it at 60FPS by frame pacing. Any newer gen 60Hz TV shows extra frames between each refresh. But this doesn't happen on normal 60Hz monitors. So, if your game is running at 30FPS you don't need to worry because your TV will back you up. And the best thing is most games that run at 30FPS aren't multiplayer online games So no need to worry about high frame rates.
On the other hand, an average graphics card that offers 30FPS doesn't match up to the PS5. It will show only 30FPS on your 60Hz monitor and you will notice it clearly. So, if you want your GPU to be similar to the PS5's performance then you should get a high-end graphics card that has double the teraflops than that of the PS5 GPU. 
Final Thoughts
The graphics cards of a console and gaming PC are different in all aspects from price to performance. Comparing these two will be similar to comparing apples to oranges.
PS5 is made only for games, and the GPU of PS5 nails it in this regard. On the other side, A computer's GPU is built to do different kinds of tasks.
Spec wise the RX6800XT and RTX 3060 might look similar to the GPU of PS5, but in practical usage, they are very different. So, if you target your PC to offer similar performance to a PS5 then you should go for a minimum RTX3080 or RX6800XT or higher-end GPUs. These graphics cards can ensure 4K at 120Hz with real-time ray tracing like the PS5 does so easily.
You can also get similar performance from slightly downgraded GPUs like the RTX 3070 or RX 6700XT if you reduce some key features of graphics quality inside the game settings.