Is Viotek A Good Brand? A Vivid Discussion on Viotek Monitors
Viotek has become the new buzz in the monitor and display panel world, thanks to its striking features, affordability, and quick rise to success. In fact, Viotek has become one of the reliable leading gaming monitor manufacturers brand in the last two years. The monitor supplier has attracted gamers, multi-tuskers, and even regular users with attractive price points, value for money features, top-class benefits, and great service. 
Yet, as a lesser-known brand, Viotek confronts many questions such as, "Is Viotek a good brand? Are Viotek monitors good for gaming? Or, does Viotek manufacture their monitors? or are Viotek monitors are reliable? What is their Warranty period?" and many more. 
Well, as far as our research goes, Viotek monitors are worth their pricing. Their quick response rate, lag-free and faster frame rates, color accuracy, various sizes of monitors for different users, and satisfactory performance truly make Viotek monitors one of the most sought-after monitor brands in the industry, especially in the entry-level display segments. Their standard HD and curved gaming monitors are incredibly popular. Plus, their MX series and VA series monitors have received favorable feedback and reviews on Amazon, making them one of the best-selling monitors on the platform. 
But, these lines are only the tip of the iceberg. So, we will take the discussion deep down to find the worthiness of Viotek monitors in different circumstances. It will help you finalize whether or not you should get your 1st Viotek monitor. 
A Brief History of Viotek:
Viotek's history is pretty confusing as the company has hardly any information available about them publicly. Their website doesn't tell about their origin, market value, etc. However, we surfed through Viotek's official website and several other monitor blogs and forums to find that Viotek 1st built their official website in 2016, the one that you will browse currently.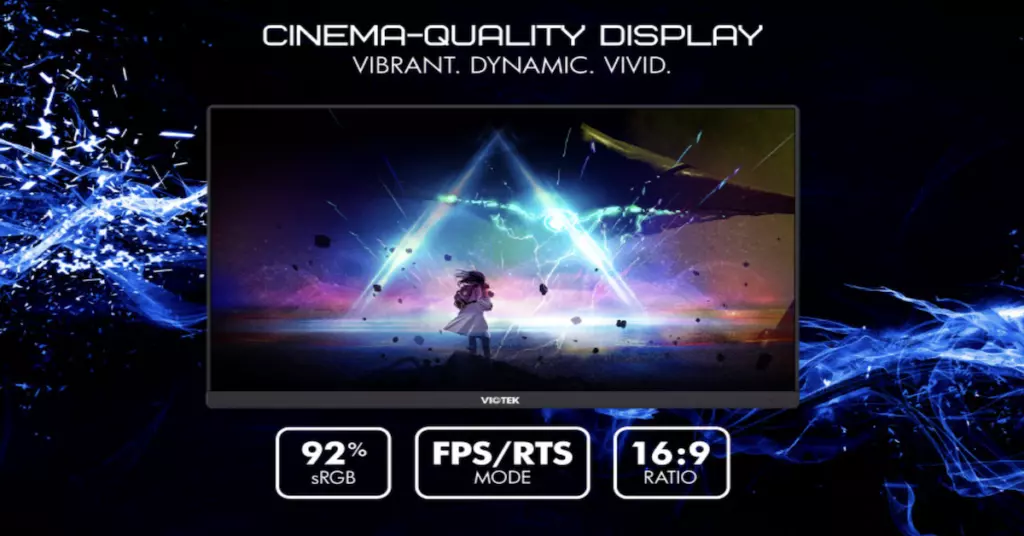 Also, Viotek monitors are pretty new in the industry. It is only three to five years from when Viotek monitors were seen in the mainstream monitor market. Thus, Viotek monitors are still a newcomer in this sector. Yet, with its exceptional service and amazing features, the company has set storms in the monitor market. 
Their recent popularity compelled us to research further on Viotek. According to our research, Viotek was originally established as a PC accessory manufacturer in South Korea. 
Nonetheless, Viotek has spread its business in the USA and has already become a leading entry-level monitor builder in the market. Currently, they have customer care and service center in Indiana. The company has also set its Research and Development (R & R&D) in Indiana. In Indiana, the company works on its display panel design, refresh rate, response, performance, and top features. But, there's a catch about Viotek. 
Like most monitor manufacturers these days, Viotek's display panel is built in China. In fact, Samsung is their main supplier for display panels. It has led many people to think that Samsung builds Viotek's monitors. But that's not true. We will discuss it in detail in the following section of this article. 
Does Viotek Manufacture Its Monitor?
Viotek is a pretty newcomer in the monitor and display market. So, they are yet to receive massive attention, which has led to many questions for us. For instance, people ask, "Does Samsung build Viotek monitors? Also, does Viotek manufacture their display panels?"
These questions have tricky answers. First of all, Viotek indeed outsources its display panels from Samsung, as many monitor companies do. Nonetheless, Viotek has its team for research and development. We have mentioned that their R&D team works in Indiana, USA. According to our information and find, their R&D team develops the initial planning and submits their requirements for display panels to Samsung.
Samsung builds the display panels according to their requirements, such as refresh rate, response time, color, sharpness, color gamut compatibility, etc. Once Viotek receives these display panels, they further modify them and assemble other accessories, including display stand, frame, mounting gears, etc. 
Thus, it is, perhaps, safe to say that Viotek manufacturers their monitors depending on their research based on Samsung display panels. The process is similar to Apple's iPhones, where Apple designs the display, but Samsung makes it for Apple. 
Types of Viotek Monitors 
Although Viotek targets the entry-level monitor market, the company has great variations to choose from for all users. Their three main categories for monitors include the following ones:
Gaming monitor 
Ultrawide monitor 
Portable monitor 
Now, let's go deep with these three types of monitors from Viotek. It will help you better know about the company and their monitor variations. 
Affordable Viotek Gaming Monitors:
Gaming monitors from Viotek come with a higher refresh rate, great color accuracy, fastest response time, lag and ghost-free gaming experience, and brilliant consistency during gameplay. The company has both flat and curved displays for gamers. So, you may choose from a wide range of gaming monitors from the company.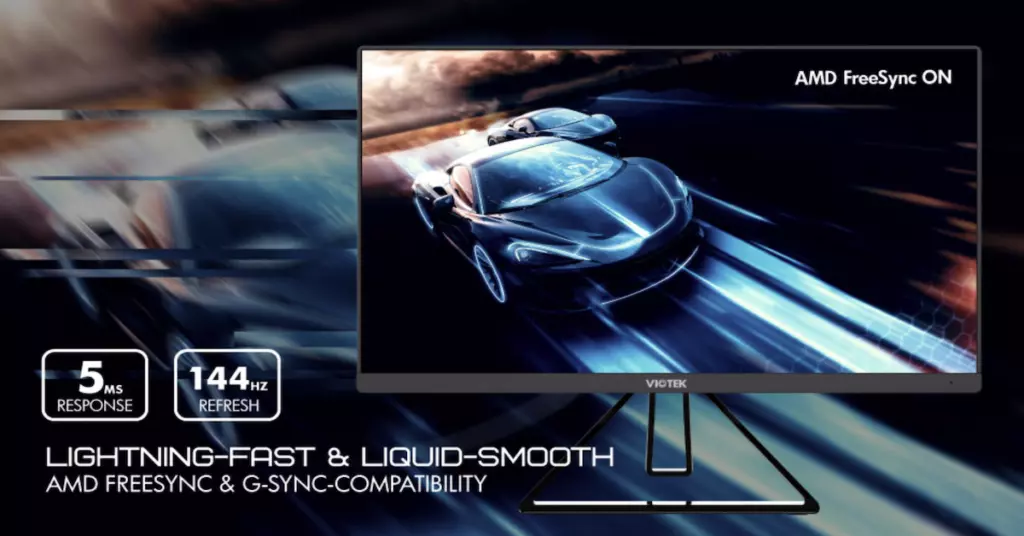 A few top Viotek's gaming monitors suggestions are:
VIOTEK GFV22CB Ultra-Compact 22-Inch 144Hz: Best Cheap Gaming Monitor
VIOTEK GFV24CB: Best Budget 24 Inch 165Hz Gaming Monitor
VIOTEK GFV27DAB: Best 27-Inch 165Hz QHD 1440p Gaming Monitor
Best Viotek Ultrawide monitors:
Viotek has recently entered into the ultrawide monitor segment and, like their gaming monitors, have set new standards in the ultrawide monitor market. Also, Viotek's ultrawide monitors are reasonably priced to fit most people's budgets. 
The good thing about Viotek's ultrawide monitors is their gaming compatibility. These monitors will easily allow you to play top games such as Forza Horizon and Microsoft Flight Simulator in their maximum settings. 
Furthermore, Viotek has built its ultrawide monitors for simulation and gaming purposes. So, it brings 2-in-1 benefits for customers. Some of the most popular and reliable ultrawide monitors from Viotek include the following models. 
VIOTEK GNV34DBE2: Best Affordable Ultrawide 34-Inch 144Hz Multimedia Gaming Monitor
VIOTEK GNV30CBXA: Cheap 30-Inch 200hz Ultrawide Curved Gaming Monitor
VIOTEK NFI29CB: Best Budget 29-Inch Ultrawide Gaming Monitor 
Best Viotek Portable monitors:
Viotek also shines brightly in the portable monitor segment like gaming and ultrawide monitors. The good part about Viotek portable monitors is their different compatibility. Many of these monitors support a wide color gamut for video and photo editing and content creators. Also, you may use these monitors as your secondary display to increase your productivity. 
The compactness of these monitors, along with their brilliant performance and striking features, will definitely work in favor of your multitasking ability. Some of their top portable monitors include the following ones. 
VIOTEK LinQ 16 Inch Portable Monitor: Best Budget Portable monitor with Speaker
VIOTEK LinQ 16 Inch Touchscreen Portable Monitor: Affordable Portable Monitor with Touch Screen & Built in Speaker
Is Viotek A Good Brand?
Now, it's time to reveal the answer to the main question of this article. Is Viotek a good monitor brand? Is it worth buying Viotek monitors for gaming, regular work, or multitasking? 
To answer these questions, we will look into their display quality, performance, features, longevity, and user feedback. So, don't forget to browse through the rest of the article if you truly want a reliable and performing monitor within an affordable budget. 
Screen resolution and size:
Your monitor selection will depend largely on the screen size and resolution it offers. It's crucial because, for gaming, you might prefer a bigger monitor, while for a secondary monitor, you might want something compact and portable. 
Thankfully, Viotek has listened to these different requirements of their users and possible clients. Thus, you will find Viotek monitors available from 22″ to 49″. Thus, Viotek offers you to choose a wide range of screen sizes. You will surely enjoy the freedom. It liberates you from the limitations and lets you choose exactly the display size you want for your gaming, secondary, multitasking, or regular works at home or office. 
Next up, Viotek also offers you a wider selection of screen resolutions to choose from to meet your budget and working requirements. Viotek monitors are available from Full-HD to all the way 4k (2160P) display. You also have the luxury to choose a 2K (1440p) display. 
Choosing a Full-HD or 1440p monitor for gamers will be the best idea. And for media consumers, you might choose 4K monitors. In the previous section, we have already mentioned a few high-end displays for 2k, 4k, or Full-HD monitors. You may choose from them. 
Panel type and quality:
The panel type for the monitor isn't a pretty complex selection. Also, it's not something you might worry about, at least for Viotek monitors. Viotek gets its display panels from Samsung with the highest-quality performance. 
Viotek provides the software, color gamut compatibility, chassis, sound integration system, and color accuracy and contrast. Thus, you will love the panel type of Viotek monitors. They have LED and TN display panels for the best performance. 
Refresh rate and response time:
Whether you are a gamer or a regular user, your monitor's response time and refresh rate will be a key consideration to select the monitor. The refresh rate refers to the number of times the display will refresh in a given time, usually expressed in Hertz (Hz). 
Usually, the higher the display's refresh rate, the better the using and immersive experience will be for you. Also, the display rate will determine the working compatibility of the display. 
For instance, regular workers and editors might get away with a 60Hz refresh rate. Also, it is a bare minimum for monitors these days. But, for gamers, the 60hz refresh rate won't work. Thus, Viotek offers 144hz and 165hz refresh rates for their gaming monitor.
Yes, VIOTEK GFV24CB 24 Inch 165Hz Gaming Monitor and VIOTEK Reaper RFI25CBA 25 Inch 144hz Monitors are two of their affordable yet higher refresh rate monitors that you will surely love. 
You must also consider the response time of the monitor. It is exceptionally important for gamers as the monitor's response time is linked with the blurring and ghosting of the display. The higher the response time, the less ghosting ad blurring your will experience with the display. So, your monitor will have the least lag during the gameplay. 
The monitors are mainly available in 5ms, 3ms, and 1ms response times. Thankfully, Viotek monitors have a brilliant response rate to elevate your gaming experience. The VIOTEK GFT27DB 27" WQHD Gaming Monitor with its 1ms response time can be a good option for you in this regard. 
Quality and performance:
Although many monitors have brilliant specs in the paper, their performance in real life is amazingly the opposite. Thus, you must look at the performance and quality of the display before you finalize your buying decision. 
For instance, the LG G850 is a 1440P monitor with a 1ms response time. But, in real life, the monitor will hardly reach a 1ms response time. Also, you will experience blurring and ghosting with the LG G850 when set at 1ms. Thus, it has a sharp contrast in terms of its performance and features. 
Luckily, we found Viotek is free from these problems. According to our findings and customer review on Amazon and other forums, Viotek monitors deliver just about the perfect performance that matches their claims on paper. So, you will love the performance, and quality Viotek monitors bring to play. 
Color accuracy and gamut:
Although color gamut compatibility and accuracy aren't crucial for gamers, they are the lifeline for content creators and editors. Thus, you have to look at the color accuracy, contrast, sharpness, NITs, brightness, and consistency of the display. 
Thankfully, the color contrast and accuracy of the Viotek monitors are unbeatable. Also, their color gamut compatibility is quite palpable, although it still needs slight improvement. You can, however, expect to get their most monitors with color spectrum compatibility close to 100% sRGB. So, it shouldn't be a big issue unless you are a high-end content creator and photo and video editor. 
But, be aware that Viotek doesn't offer any built-in color calibration facility for their displays. Thus, it is a big setback for these monitors. You can use advanced color calibration and software to improve color accuracy. 
You may know about the ICC Color Profiles for Viotek monitors and how to calibrate the setting and profile from their official website. 
Pricing:
The final consideration to find the worthiness of Viotek monitors is to look at their pricing. Viotek shines and even outperforms many high-end monitors and display manufacturers in this category. Most Viotek's monitors are available from $150 to $500. Of course, there're a few pricier and more expensive monitors on their list. 
Nonetheless, you can get a decent and reliable gaming monitor from Viotek within $200 to $300. Thus, these monitors are a perfect fit for entry-level gaming monitors. It will also be a good reason for beginners to choose one of Viotek's monitors.

Warranty period of Viotek monitors:
Furthermore, Viotek offers a generous 3-years warranty period for their monitors. So, it is a great benefit. To learn more about their warranty please visit their site.
Is Viotek's Gaming Monitor Any Good?
Choosing a gaming monitor requires the following requirements for the best and most immersive gaming experience. 
Lag-free response time without ghosting and blurring that is less than 5ms. The lesser the response time, the better the gaming monitor. 
Allows you to play games in the highest brightness setting with good color accuracy and display resolution. 
The monitor should be free of tearing when you play games for hours. 
We considered these features for Viotek and found most of its gaming monitors quite good at all these top gaming monitor considerations. Their monitors offer lag-free gaming, the least tearing, and premium screen resolution. 
Also, Viotek monitors include most features for gamers in their price point, unlike most display manufacturers in the market. So, you may choose Viotek monitors for gaming. 
Is Viotek a Good Brand? Its Comparison to Other Popular Brands
Sure, Viotek is a reliable and popular entry-level monitor brand out there. But, where does it stand among other popular monitor brands in the market? We will look into it to find the true worthiness of Viotek monitors. 
For this, we have compared three Viotek, Samsung, and Sceptre monitors. Our three chosen models were: 
Now, please quickly look at their specifications to find which monitor is worth the money. 
| | | | |
| --- | --- | --- | --- |
| Specifications | Viotek | Sceptre | Samsung |
| Size  | 27-inch | 24-inch  | 23.5-inch  |
| Resolution  | 1080p | 1080p | 1080p |
| Refresh rate  | 75hz  | 75hz | 65hz |
| Response time  | 5ms  | 8ms  | 4ms |
| Contrast ratio | 1000000:1 | 3,000: 1 | 3000:1 |
| Speaker  | Built-in stereo speaker  | Dual speaker  | No  |
| FreeSync  | Yes  | Not specified  | Yes  |
You see that Viotek has fought neck-to-neck with the two most entry-level monitors in the market. But, as you look closely, you will find that Viotek's monitor is slightly ahead with its better speaker, contrast ratio, and refresh rate. 
However, the monitor from Viotek is almost $50 more affordable than the Samsung and Sceptre monitors. So, it won't be an exaggeration to say that Viotek is a winner in this category. 
Is It Worth Buying Viotek Monitor?
 So, it's time to give your verdict on the topic, "Is Viotek a good brand? Also, is the Viotek monitor worth the buying decision?
The short answer is yes. Viotek monitors are worth your investment. Whether you are a gamer, multitasking person, or content editor, you will find Viotek monitors truly amazing. These monitors hold up greatly against their counterparts and may even outperform them with competitive pricing,3-years warranty, build quality, and long-term performance. 
Thus, these monitors will be a good selection for your secondary display option. Also, gamers can kick off their career with Viotek monitors. We rest assured that these superior monitors won't disappoint you by any means.